It's now 24 hours ago I arrived here in hot Bangkok with just 60 items with me. For the next coming months I'll be traveling asia, in a somewhat unplanned manner. It's the first time I'm traveling longer than a month, and the first time I'm on my own.
Exciting!
Traveling like this has been on my mind for a while, and after reading this What I learnt from bootstrapping my startup from Thailand in six months post by @levels.io, on how to be traveling as a "digital nomade", I made the decision that it soon was going to be my turn.
So here I am. In Bangkok, with my laptop, camera and 58 other items.
I'm ready to meet new people, explore Asia, and have a great time.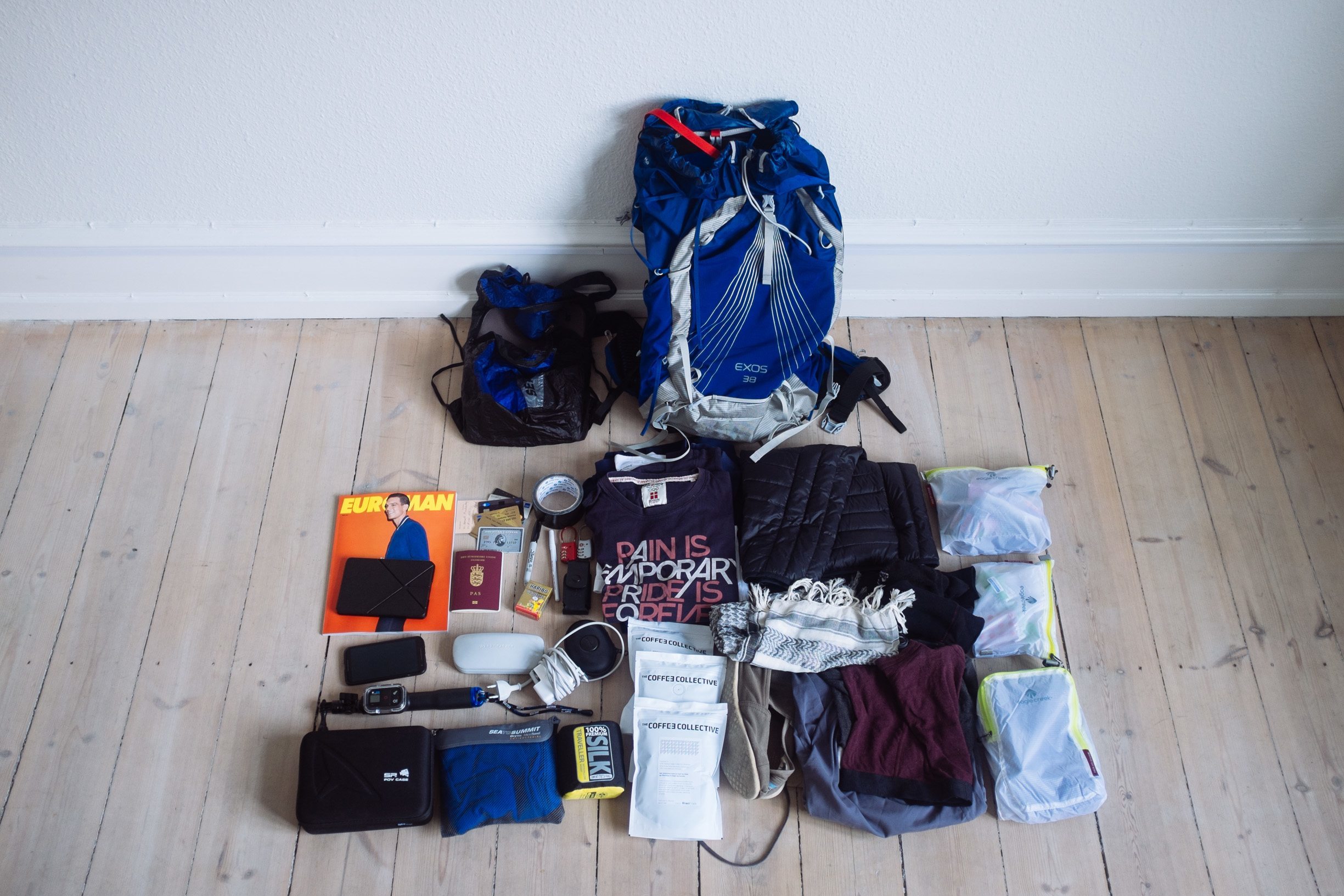 So what did I bring with me?
When packing for this trip I've spend quite some time reading blog posts on do and don'ts for Asia. There's so much information out there, but I ended up following the principles of Expertvagabond gear guide. I decided to go "minimal", and try the The 100 Thing Challenge, so the first thing was to find a relatively compact backpack, after a bit of research I ended up with a Osprey Exos 38 liter backpack, which is about half the size of a typical backpacker bag.
This is the items I decided to bring with me:
Gear
1x Osprey Exos 38 back bag
1x Sea to Summit Ultra-Sil Day Pack
1x Sea To summit Bed liner
1x Sea To summit travel towel
1x Leatherman New Wave tool
1x Black Diamond headlamp
4x Eagle Creek Pack-It Cubes
2x Eagle Creek Compression Sacs
1x Shemagh
1x Sewing kit
2x Aloksak bags
1x First aid kit
1x Ducktape
2x Pens (sharpie + pen)
2x Locks
Clothing
3x T-shirts
2x Tank tops
1x Long sleeved shirt
2x Long parts
4x Underpants
4x Pair of socks
2x Shorts
1x Toms shoes
1x Uniqlo Termo West
1x Nike Free 5.0 shoes
Electronics
1x Macbook Air + charger
1x Fuji X100s + charger
1x Kindle Voyage
1x Ankor USB charger + Micro USB cable
1x GoPro Hero 4 Silver + accessories
1x Travel power adaptor
Mics
4x Creditcards
1x Passport + passport photos (for visa)
1x Drivers license
1x Toothbrush + painkillers + malaria meds
3x Coffee Collective coffee (a gift to Ake from Roots Coffee, not counted)
Total: 60 items
So I have 60 items with me. Is it enough? It's it too much? I don't know. Time will tell.
What's next?
I'm in Bangkok for the next week or so, and after that I'm probably headed for Cambodia. I haven't made the decision yet, so let's see where I'll end up.
/k